Tue 11 Nov 2008
On Fri 7th Nov I did my school visit stuff at Bay House School, in Gosport: three sessions of around 45 mins apiece with about ninety students in each session. It was TERRIFIC! All three groups were wonderfully attentive and asked all sorts of excellent questions. If anyone who was there happens to be reading this, it was a pleasure speaking to you: thank you! 🙂
As followers of this blog will know (perhaps all too well! ;p) when I post about a school visit it's at this point that I traditionally put up a bunch of pics of me talking and gesticulating, vibrating, scratching, or waving my arms about like an idiot as usual.
Well: here, by way of a change, is….!
The above is just one of a selection of AWESOME posters that Bay House Ninja Librarians Caroline and Fleur had put up all around the school to promote my visit. Isn't it great? And here (below), I kid you not, is a MOBILE they'd constructed to represent Tim being attacked by Professor Mallahide's nanobots…!
Here (below) is a backdrop with more images from Tim – and some from Black Tat, too: I stood in front of it while I did my talks. My photo doesn't really do it justice, but if you look closely you can make out the Kraken, the (or a-!) Dragon, Esme's butterflies and more besides.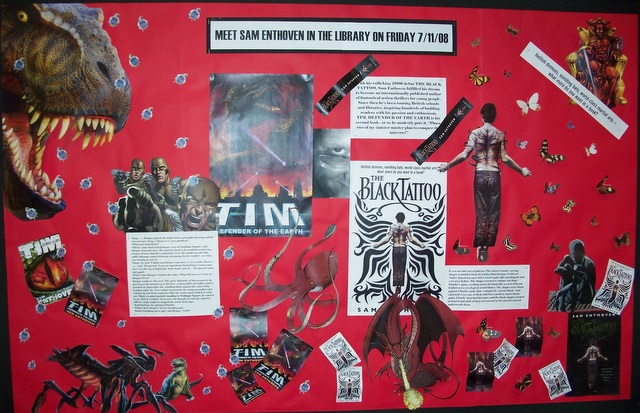 And here's a pic of how the whole day made me feel! 🙂
A VAST AND GLEEFUL THANK YOU to Caroline and Fleur for their poster genius, and to everyone I met and spoke to, but especially to Joy Hammond for inviting me to Bay House and giving me such a wonderful warm welcome. I thoroughly enjoyed my visit. I hope everyone got something out of listening to me! 😉
--------------------------
Comments? Suggestions? Questions? Me and THE WEBSPHINX would love to hear from you! Drop us a line at the
Tim, Defender of the Earth Guestbook
for current or
Tim
stuff, or
The Black Tattoo Guestbook
for
Black Tat
stuff. First (or demon-!) names only, please. 😉