Tue 13 May 2008
This afternoon it was my great privilege to go do my stuff at Elizabeth Garrett Anderson school for girls. It's actually the third time I've been invited there; it was a pleasure as always…
…and, also as always at my events, I waved my arms about like a big, black-clad, blond baboon. 😉
Let's start with a wide shot of me reading from Black Tat – and looking pretty composed and dignified, right?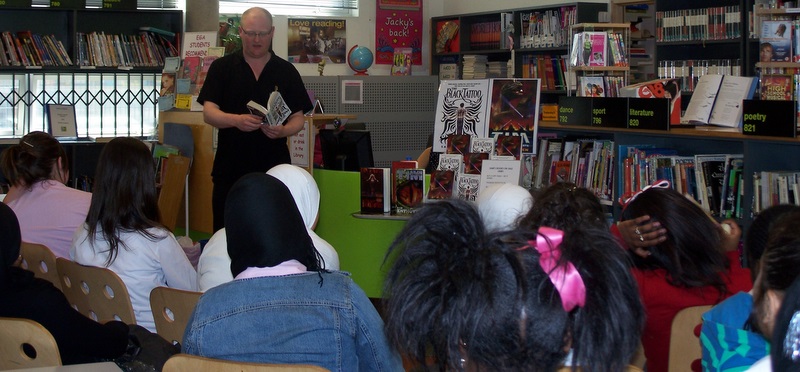 Maybe so. But the old habits soon set in, and before long…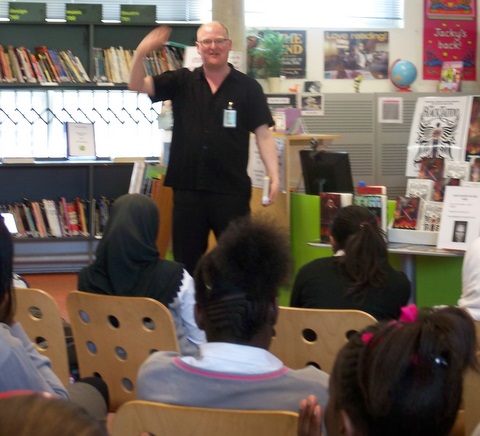 Then…
And even…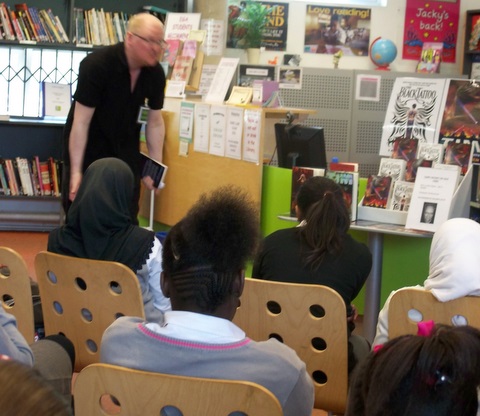 The above, unless I'm very much mistaken, is me acting out the scene from Tim in which the Big Ben Tower is snapped off and tossed like a caber.
Well, I like to put a lot of enthusiasm into my talks! 😉
My thanks to the students I spoke to – your questions were excellent! – and to Ms Cheetham for having me back for what was yet another terrific visit.
--------------------------
Comments? Suggestions? Questions? Me and THE WEBSPHINX would love to hear from you! Drop us a line at the
Tim, Defender of the Earth Guestbook
for current or
Tim
stuff, or
The Black Tattoo Guestbook
for
Black Tat
stuff. First (or demon-!) names only, please. 😉