Mon 1 Jun 2009
Have you seen the TIM Reader Quotes page? My favourite quote on there is from a young gentleman called Finn. It says:
"If you don't like books with action-packed chapters with big scary monsters wrecking national monuments and giant cockroaches killing people, you will not like this book. I loved it."
Yesterday I got the chance to meet Finn and thank him personally for his kind words. Read all about it, here.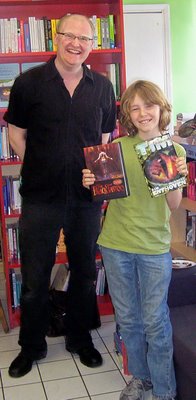 --------------------------
Comments? Suggestions? Questions? Me and THE WEBSPHINX would love to hear from you! Drop us a line at the
Tim, Defender of the Earth Guestbook
for current or
Tim
stuff, or
The Black Tattoo Guestbook
for
Black Tat
stuff. First (or demon-!) names only, please. 😉