Thu 14 May 2009
Here's a great pic from one of the two talks I gave today at Queen Elizabeth's Grammar School, in Horncastle, near Lincoln, where I did my thing as part of the Lincoln Book Festival.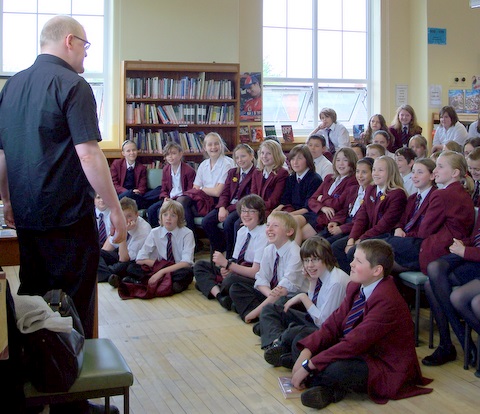 I'm normally a bit cautious about showing young people's faces in photos on this blog, which is the main reason why so many of the pics here tend to be of me waving my arms about like a big, black-clad, bald baboon ;p [Seriously: if anyone shown above – or their parents or teachers – is uncomfortable about this being up here then drop me a line via the TIM Guestbook and I'll take it straight down.] But I couldn't resist posting it, because I think you can see everyone's enjoying themselves. And that makes me happy. 🙂
My thanks to both QEGS Year 7 groups for listening to me and asking such terrific questions. Thanks, too, to Chris for looking after me.
--------------------------
Comments? Suggestions? Questions? Me and THE WEBSPHINX would love to hear from you! Drop us a line at the
Tim, Defender of the Earth Guestbook
for current or
Tim
stuff, or
The Black Tattoo Guestbook
for
Black Tat
stuff. First (or demon-!) names only, please. 😉