Wed 13 May 2009
Yesterday I did my stuff at Moat Community College, Leicester. Over four sessions I spoke to pretty much everyone in Moat's Year 9.
As you can maybe see from the pic above, the school's lecture theatre, while very impressive, left me feeling a bit far away from the audience! But I did my best to fill the space…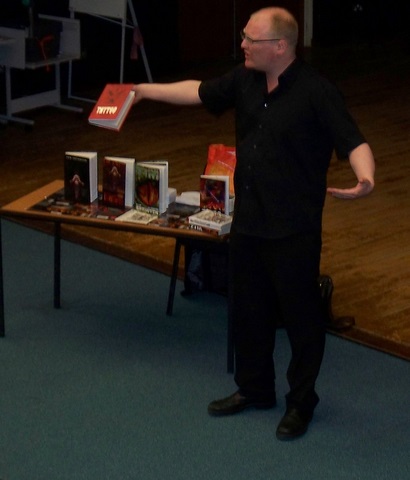 …so I hope everyone got something out of listening to me. 😉
The two sessions with smaller groups were particularly good. I understand I'm going to meet some of the students who were there for those at next month's Leicester Teen Read Expo on June 24th. I've had a soft spot for Leicester ever since last year's awesome party for The Leicester Book of the Year Award for Teenage Fiction, for which Black Tat was shortlisted. Can't wait to go back!
--------------------------
Comments? Suggestions? Questions? Me and THE WEBSPHINX would love to hear from you! Drop us a line at the
Tim, Defender of the Earth Guestbook
for current or
Tim
stuff, or
The Black Tattoo Guestbook
for
Black Tat
stuff. First (or demon-!) names only, please. 😉