Wed 24 Sep 2008
Hee hee hee! I'm very happy with this: it's a new feature for the Tim site in which the mighty Katie WebSphinx herself explains how she achieved its look – and how /you/ can cause Tim-style Kaiju Carnage of your own!
Katie is the pulsating brain behind pretty much everything you see on my sites. But when she and I first started putting ideas together for the Black Tat site she decided she'd prefer to keep her shadowy genius in the background, Ninja style. Having Katie's words (and feet!!) out here front and centre for all to see is, therefore, a unique treat – but it's a particularly timely one, right now, as she's about to take off on maternity leave.
I'd like to take this opportunity to say an unspeakably gigantic THANK YOU, KATIE! And to wish her, Mr Will, and the impending Sphinxlet(!) much love and all the very best.
Meanwhile, look what just came through the door…!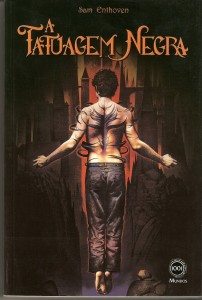 It's the all-new Portuguese edition of Black Tat! It's published by Edicoes Gailivro in their Mil e Um Mundos series (which also includes Stephenie Meyer, Anthony Horowitz and the especially awesome Geoff Ryman!) and it's very handsome large format paperback. I was particularly delighted to note that 'yuck', as in my dedication, 'To Laura, "My heart is in my hand …Yuck", appears in Portuguese as, wait for it:
'…blargh.' 🙂
--------------------------
Comments? Suggestions? Questions? Me and THE WEBSPHINX would love to hear from you! Drop us a line at the
Tim, Defender of the Earth Guestbook
for current or
Tim
stuff, or
The Black Tattoo Guestbook
for
Black Tat
stuff. First (or demon-!) names only, please. 😉