Thu 14 Jan 2010
With the launch for CRAWLERS closing fast I think it's time to drop a little hint as to what the book might contain…!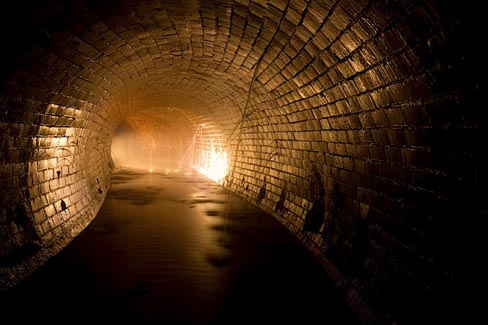 Isn't this an amazing image? It's from the Picasa Web Album of an urban explorer called Steve. Here's what he says about it:
This sewer actually passes very close to or directly underneath the Bank of England building on Threadneedle Street. The Walbrook Stream, which seems to now be carried in this sewer, used to regularly flood the vaults of the Bank. [London Bridge Sewer, London, England, 2007]
Click here for more of Steve's fabulous shots of London's sewer tunnels.

Katie WebSphinx and I are hard at work on a special CRAWLERS website, due to go live very soon now. You have been warned. 😉
Meanwhile, here's a great bit of news I just heard about The Black Tattoo, over at Trapped By Monsters.

--------------------------
Comments? Suggestions? Questions? Me and THE WEBSPHINX would love to hear from you! Drop us a line at the
Tim, Defender of the Earth Guestbook
for current or
Tim
stuff, or
The Black Tattoo Guestbook
for
Black Tat
stuff. First (or demon-!) names only, please. 😉