Mon 21 Apr 2008
The New York Comic Con was amazing! But I'm putting this post together in great haste, fully expecting my internet connection to conk out on me again at any second (RRR!) so I'd better tell this one in pictures. 😉
I'd been to conventions in the UK, but nothing prepared me for this. I hear the comics Con in San Diego is even bigger, but this one seemed pretty floomin' large to me…
Still, enough members of the supernatural community were present…
for a demon like me (see THE ENTHOVEN IS DEAD) to feel right at home. 🙂
One of the Con's particular highlights, for me, was getting the chance to meet at last with artist Dan Dos Santos, creator of this awesome painting that's included as a a gatefold in the US hardcover of Tim. Here's one pic of him demonstrating his incredible skills…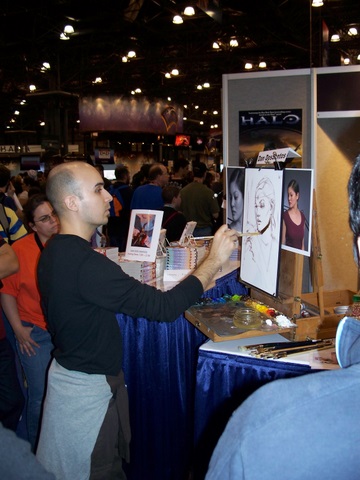 …and here (below) is another. Almost unbelievably, between my taking these two photos only ONE HOUR had elapsed. Watching the painting appear was something like magic. Brilliant!
My reading, yesterday, was a blast. I'd thought I was going to be doing my stuff in a room somewhere at the back of the Con, but due to some organisational shenanigans – and much to my own amazement – I found myself on the MAIN STAGE!

What with the size of the space I got a little flustered and lost my place at the start (AGH!) But I soon found my feet, getting a nice round of applause at the end (and if you're reading this, a particularly big thank you to the lady in the front row who yelled 'YOU ARE AWESOME!' Hee hee hee!)
A blur of signing followed, first at the booth of excellent NYC comics shop Midtown Comics…
…and then the Penguin booth…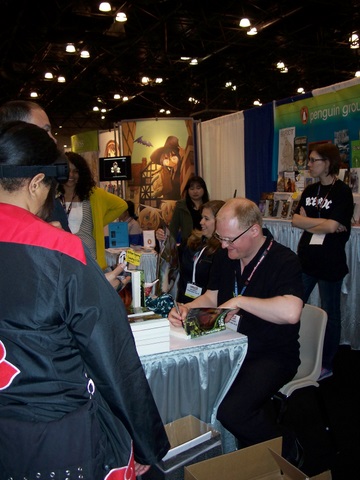 Then my 'official duties' were over, and I could get back to buying more cool books (Yeesh, I hope I can fit 'em in my suitcase!)
What a great convention. I was very happy with how it all went, and I hope the team at Razorbill (my US publishers) were too. Here's a pic of us together.
You see the lady on my immediate left? That's the legendary Sarah Beth Durst, creator of the hugely cool books INTO THE WILD and (soon!) OUT OF THE WILD – and as well as being a fabulously talented writer she's also an absolute sweetheart! We're meeting up again tonight at the fabled "New York YA Authors' Drinks Night", a monthly bash that is fast developing something of a reputation: the traditional snack of choice, I'm led to believe, is 'vodka pizza'. The mind boggles. If I survive, I'll catch you later! 😉
--------------------------
Comments? Suggestions? Questions? Me and THE WEBSPHINX would love to hear from you! Drop us a line at the
Tim, Defender of the Earth Guestbook
for current or
Tim
stuff, or
The Black Tattoo Guestbook
for
Black Tat
stuff. First (or demon-!) names only, please. 😉