Thu 14 Feb 2008
…Erm, not me! ;p As you may have read by now on the Waterstone's site, their Children's Book Award was won this year by Sally Nicholls, for her debut novel WAYS TO LIVE FOREVER. Here's a pic of her making her prize acceptance speech…
…and here's a link to an interview with her on the website Write Away. Congratulations, Sally!
Honestly I feel no 'sour grapes' about this at all. On the contrary, the book sounds like an incredibly ambitious piece of writing, and one that must have taken an enormous amount of talent – not to mention courage – to pull off. [Check out this review by Mal Peet]
I'll admit, however, that when the first letters to come out of the judge's mouth were 'SA…' I did get a bit of a jolt. Fact is, the Enthoven's agent Penny had just taken me out for a rather powerful spicy dinner in London's Chinatown. If I'd 'ad to make a speech, there might have been some unintended extra sound effects: URP! ('scuse me) ;p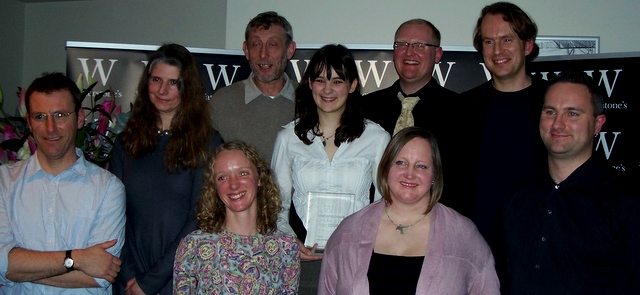 All the authors who'd been shortlisted were invited up on stage and given bottles of champagne (see? I ain't complaining!) And while the cameras flashed at us, the current UK Children's Laureate, the inspirational Michael Rosen, kept us grinning with an impromptu song, the words of which appeared to be… 'Weeeeeeeeeee're top of the league, top of the league, top of the league; Weeeeeeeeeeee're top of the league, top of the league." -So, while he might accidentally look half-asleep in the photo above, I can assure you he most certainly was not. HEE HEE HEE HEE! 🙂
It was a fine do all round, with lots of people saying kind and lovely things about TIM (aw, shucks). But a particular highlight was when the indispensible LAURA H. (of whom I've already written, see below) managed to sneak me up to the booksellers' staff room balcony on one of the highest floors of the Waterstone's Piccadilly building, there to take some spooky photos of the foggy London night. Check out this one, of Nelson's Column…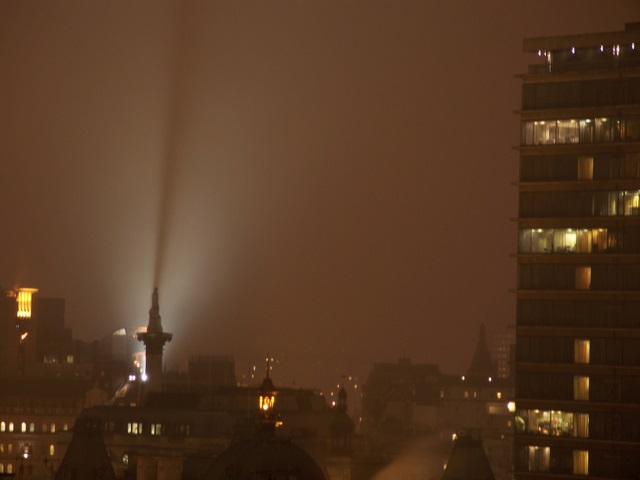 …and this one, of The London Eye:
As some of you may know, over the course of the story of TIM, DEFENDER OF THE EARTH not just one but BOTH these iconic London landmarks are ignominiously and utterly destroyed. I'm therefore trying to take as many pics of them as I can, partly to help people really visualize those bits of the book, and partly for a possible future competition, to be held on these pages. [Can't tell you about that now, but watch this space… ;)]
Meanwhile, as if all the excitement of being up for this year's Waterstone's Children's Book Award wasn't enough, this morning I 'eard that the Enthoven's 'orrible first book, THE BLACK TATTOO, has just made the shortlist for another, namely the Leicester Book of the Year Award for Teenage Fiction! Over the next few months everyone who attends a Leicester City secondary school will get to vote on which is their favourite out of the following:
BEING, by Kevin Brooks
THE BLACK TATTOO – feh, you know the fool wrote that one ;p
THE ANGEL COLLECTOR, by Bali Rai
JUST LISTEN, by Sarah Dessen, and-
BERSERK, by Ally Kennen
Here's a link to the award's blog.
…I'm tense! I'm filled with tension! It's a TENSION CONVENTION! URP ('scuse me) Ahhh, thass better… 😉
--------------------------
Comments? Suggestions? Questions? Me and THE WEBSPHINX would love to hear from you! Drop us a line at the
Tim, Defender of the Earth Guestbook
for current or
Tim
stuff, or
The Black Tattoo Guestbook
for
Black Tat
stuff. First (or demon-!) names only, please. 😉