Thu 7 Feb 2008
Anyone reading this with a long memory (so not me, then: I have to write everything down!) might conceivably remember that the Enthoven mentioned back in September on 'is Black Tat News page that he'd been invited to an event to do with a brand new book prize – the Lewisham Book Award. Today was the day. As the Enthoven found out when I wreaked my grisly pink vengeance upon him, I always keep a promise – so off to the London Borough of Lewisham I went.
The reason for the invitation was that – much to my astonishment – the Enthoven's 'orrible first book, The Black Tattoo, has made the shortlist for the Award. But it's up against some serious competition. Take a look:
THE BOY IN THE STRIPED PYJAMAS, by JOHN BOYNE
THE WAVE RUNNERS, by KAI MEYER
THE BOOK OF EVERYTHING, by GUUS KUIJER
THE OUTLAW VARJAK PAW, by S F SAID
and
HYBRIDS, by DAVID THORPE
…An extremely impressive set of contenders, I think you'll agree.
For the last six months, to my absolute delight, students at schools all across Lewisham have been reading every book on the shortlist, and then casting votes as to which is their ultimate favourite. The overall winner won't be announced until this March. But today a select team from each of the participating schools was invited to Lewisham's excellent Central Library – there to put presentations together designed to convince the world of why their title should win. The Enthoven's – heh! – I mean, MY job (;p) …was to judge the presentations. Here are some pics to give you a flavour of how it all went.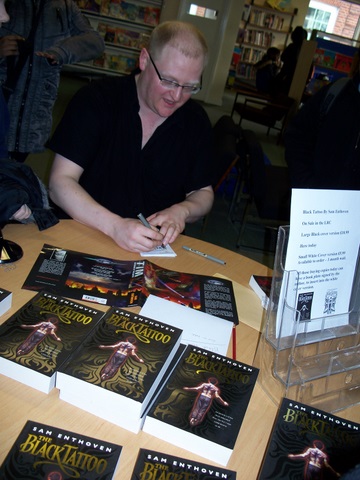 The presentations took place in the afternoon, so since I was going to be in the area, the LRC Manager at one of the participating schools invited me to do a talk there in the morning. My gleeful and grateful thanks to Ms Moulding and everyone I met at Sydenham School for what was an absolutely brilliant session! Talking to an audience who were so familiar with every aspect of The Black Tattoo was a joy in itself, but the depth and quality of the questions were phenomenal.
But next came the event itself. Each team picked a title from the shortlist at random out of an envelope, and then set to work putting their presentations together using PowerPoint on the library computers and – of course – their own ingenuity. Especially considering the (as it seemed to me!) knuckle-whiteningly short time in which they had to prepare, the results were tremendous. My task was to play the part of a buyer, waiting to be sufficiently convinced of the merit of a particular title to stock it in my bookshop. The sensation of having not just one team but two suggesting their own jacket art, blurbs and selling points for Black Tat was quite peculiar, I can tell you!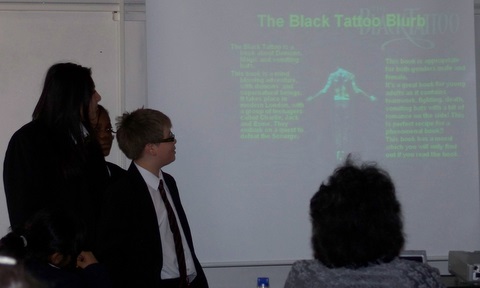 Each team put their case across with great aplomb, speaking with huge and heart-warming passion and enthusiasm. But in the end there could only be one winner, and it was Team Three, combining technical panache and evangelical conviction for their presentation of David Thorpe's HYBRIDS.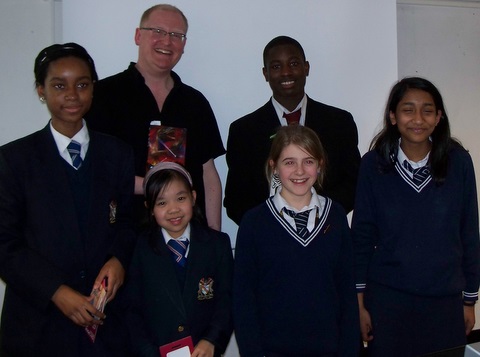 Here they are – the winners! And here (below) is a pic of me shaking hands with Lewisham's Young Mayor, Justin Cole.
What an absolute pleasure and privilege it was for me to be involved in this wonderful event. My thanks to Jo Moulton for inviting me, and my very best wishes to everyone who took part.
--------------------------
Comments? Suggestions? Questions? Me and THE WEBSPHINX would love to hear from you! Drop us a line at the
Tim, Defender of the Earth Guestbook
for current or
Tim
stuff, or
The Black Tattoo Guestbook
for
Black Tat
stuff. First (or demon-!) names only, please. 😉