Sat 2 Feb 2008
FLOOF. Well, 'ere I am back again in the Enthoven's North London crash-pad, making myself at home and leaving nasty pink stains on 'is sofa, HUR HUR HUR. But I have to tell you, my first visit to Liverpool was AWESOME.
First event of the day was a forty-five-minute session at Range High School, Formby.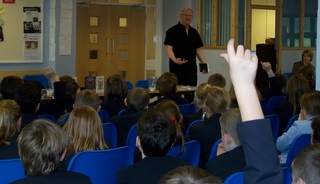 This was absolutely terrific: the students were full of all sorts of excellent questions, and talking to them made me feel really excited and inspired. Then I was whisked away to the spectacular library of Merchant Taylors' Boys' School…
…for two quick (half-hour) sessions there, both of which were tremendous fun too. My grateful thanks to everyone I met today, for being so warm and welcoming. But I'd particularly like to thank samurai bookseller Tony, of Pritchards, for being — as well as an enthusiastic champion of young people's literature — an absolute gent in looking after me; supplying stock; driving me about, and giving me some excellent book recommendations. Thank you, Tony!
So now the first official UK tour for TIM has come to an end. I can't let the opportunity go past without mentioning the amazing LAURA H., who has been keeping me on the straight and narrow this week with no small measure of style and aplomb. That night in Newcastle I 'ave to confess I may have given the game away a little: at dinner in the hotel restaurant, when our steaks arrived, I momentarily forgot myself. Dissolving from the Enthoven's crude form into my natural blancmange-like state, I flowed forward over the plate and digested the rare meat (plus chips and salad) with my external juices, like normal, rather than bothering with that tiresome knife-and-fork business you humans seem so fond of. (Well, I was hungry!) Of course, as soon as my feeding frenzy abated I realised I'd made something of a 'faux pas', and as – with a dainty belch – I coalesced back into the Enthoven-shape, I noticed that our waiter was looking somewhat perturbed.
Laura, of course, didn't bat an eyelid. 'Don't worry,' she said, with calm authority: 'he's just an author.'
I've got plenty more events lined up – keep checking in here for details. And there have been some FANTASTIC questions coming in to the Black Tat and Tim Guestbooks over the last day or so: don't fret folks, I plan to answer those early next week! But for now this is me signing off.
Stay slimy. Yr pal,
-JagmAHEM! I mean, /Sam/ 😉
Favourite human words of the day: GAZUMPING, UNDERVOLT
Currently reading: BROKEN SKY Act 1, THE TWILIGHT WAR, by Chris Wooding.
--------------------------
Comments? Suggestions? Questions? Me and THE WEBSPHINX would love to hear from you! Drop us a line at the
Tim, Defender of the Earth Guestbook
for current or
Tim
stuff, or
The Black Tattoo Guestbook
for
Black Tat
stuff. First (or demon-!) names only, please. 😉