Fri 25 Jan 2008
Thursday 17th January 2008
The UK launch date for Tim has actually shifted forward several times now. The original plan was for the UK edition to appear in April – the month after the release of the book in America this coming March. Then Jan 31st was apparently going to be the date – before today was finally settled upon, some time just before Christmas. The reason for the change, as I've mentioned before, is that (much to my continuing astonishment) Tim has already been shortlisted for an award, namely the 2008 Waterstone's Children's Book Prize. Waterstone's is the biggest bookshop chain in the UK. Today (the 17th) is when the booksellers put out their displays of the shortlisted books. An opportunity like that – having Tim on prominent view at shops all over Britain! – is obviously too good to pass up. So, today was the launch day for the book.
I was a bookseller myself for nearly ten years, and one of the many secrets I learned about the trade is that (unless you're J K Rowling of course!) the actual launch day of a new book doesn't matter all that much. The fact is that only the very top-selling authors have the marketing clout behind them for a massive event on a specific day to be worthwhile. For a 'noob' like me (even, as I hope, an up-and-coming 'noob'!) a few weeks either way doesn't make much odds in the grand scheme of things.
Now don't get me wrong: on Jan 28th I'm heading off on a tremendous full week of events arranged by Random House. After that, I've been filling my diary with as many appearances as I can: a minimum of one gig a week for the next six months. It's going to be mental! [Keep checking here for details]. But today, the launch day itself, I was at a loose end. Serious work was out of the question: since getting the book in my hands I've had an attention span a gnat would be ashamed of. So, wisely – to prevent me becoming even more of a basket-case! – my wonderful girlfriend Laura kindly took the afternoon off from her own work so we could go out and celebrate, just the two of us together. Folks, it was lovely.
Nominally our plan was to go to the Tate Modern to catch one of the last days of an exhibition by the awesome artist Louise Bourgeois. That was absolutely gobsmacking, full of exactly the kind of wriggly body-horror that gets the juices of my nasty mind flowing! And from the Tate Modern we walked along the Thames and into the West End, taking the chance on the way to shoot pics of some of the famous London landmarks that get pulverized, kaiju-style (heh!) in the course of Tim. As another early taste of the story, I therefore hereby present the following…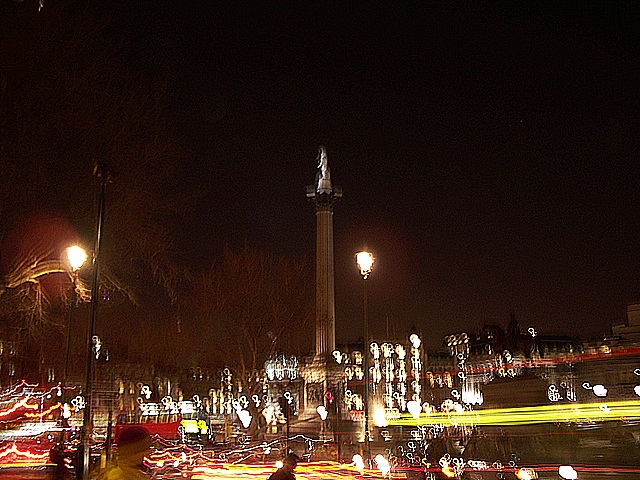 This is Trafalgar Square, shortly before its utter destruction on around page 35 of the book. I included a lot of sky so you can imagine the size of the creature responsible.

This is The London Eye looking spectacular as ever, with, in the background (of course) Britain's Houses of Parliament. It's a crying shame, what happens to everything in this picture: Oh dear, oh dear… [HEE HEE HEE HEE!]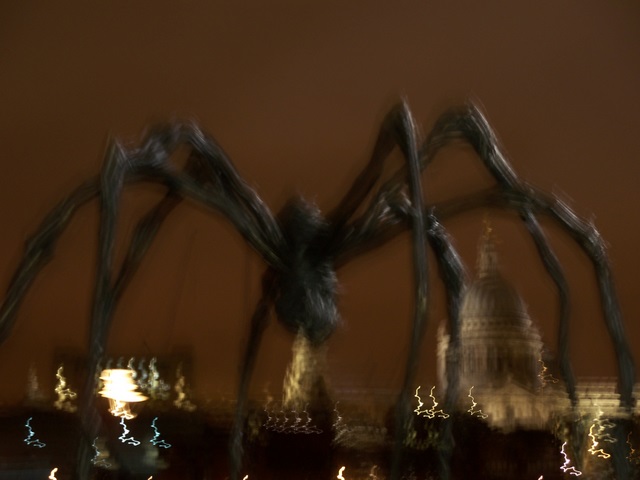 …And here's the scene of the climax of the book, namely the world-famous St Pauls Cathedral. As you can see, it was already under attack by another monster when I took this pic. What can I tell you? London's a busy place.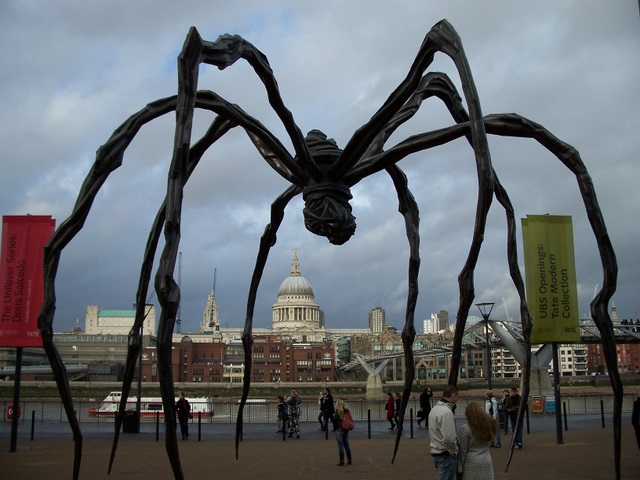 ….Oh, all right.

This gorgeous giant spider is actually Maman, a stunning 30-foot-tall sculpture by the aforementioned Louise Bourgeois. But it made a good pic, you've got to admit.
We bimbled about around town some more, catching my first glimpses of copies of Tim on sale in shops(!!!) before finally ending our wonderings at St Pancras station. As it happens, I haven't destroyed St Pancras in any of my stories yet. That's partly because it only recently reopened(!) and partly because it currently contains what is apparently Europe's longest champagne bar. And after gleefully toasting Tim with some celebratory giggle-juice there, it seems a shame to trash the place, even fictionally.
That, my friends, was how to do a launch day.

--------------------------
Comments? Suggestions? Questions? Me and THE WEBSPHINX would love to hear from you! Drop us a line at the
Tim, Defender of the Earth Guestbook
for current or
Tim
stuff, or
The Black Tattoo Guestbook
for
Black Tat
stuff. First (or demon-!) names only, please. ;)