Thu 19 Nov 2009
Here's a cropped shot of the shelf where I keep my working editions – the ones that I take with me to my events at schools, libraries, bookshops, festivals, etc. That's why Black Tat and Tim look a bit battered. But long-term followers of this blog might notice something new on their right.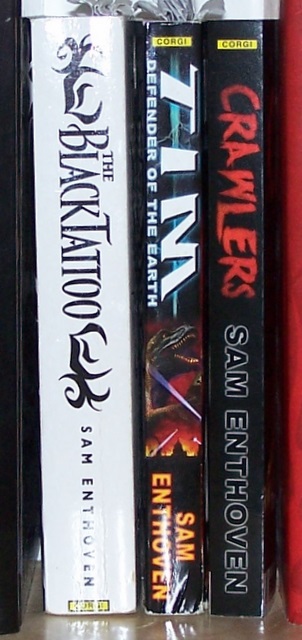 The advance reader copies – 'proofs' – of Crawlers arrived this morning. These are rough, not-quite-finished versions of the book that will be given to booksellers, reviewers and other interested parties in the hope of generating some early buzz before the final version officially launches this April 2010.
To me, after two years of work, they're something else, too. Now, for the first time, Crawlers is a proper book at last.
My disgusting, betentacled, mutant offspring (but its daddy loves it) is almost ready to slither forth out into the world with its siblings.
Today is a super good day.

--------------------------
Comments? Suggestions? Questions? Me and THE WEBSPHINX would love to hear from you! Drop us a line at the
Tim, Defender of the Earth Guestbook
for current or
Tim
stuff, or
The Black Tattoo Guestbook
for
Black Tat
stuff. First (or demon-!) names only, please. ;)